Regular Meetings
2nd Tuesday of each Month at 7:00 PM
Hells Canyon Grand Hotel
621 21st St. Lewiston, ID 83501
Public Always  Welcome
Beginners Dog Obedience
Class runs for 7 sessions •   Starts at 6:30-7:15pm    •   The fee is $90.95
(including tax)
   Call or email for questions or to register for next session!
In this class you and your dog will learn basic exercises that will enhance your relationship and will make it safer to take Fido out in the real world.  The exercises will include:  heeling on leash with automatic sit at halt, sit stay, down stay, coming when called and other commands needed to improve the socialization of your dog.  This is an excellent opportunity for you or your child to learn control and training of the family dog. 
You will need a slip collar (choke chain) and a 6' leather or nylon leash. 
Dogs need to be at least 16 weeks old and trainer has to be strong enough to handle the dog. 
Dogs do not attend the first session. 
All dogs are required to have received their rabies and DHLP (distemper, hepatitis, leptospirosis, parvovirus) vaccines.  A bordetella vaccine is also strongly recommended.  
Class limited to 12 dogs, pre-registration is required.
Regular Events:
Pleas call YWCA 208.743.1535 for registration and schedules:
Obedience class on Wednesday nights  at 6:30 pm.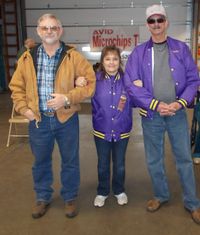 Lewiston Spring Cluster
April 2022
Lewiston Spring Cluster
Palouse Hills Dog Fanciers
Friday April 22nd and Saturday April 23rd
Lewis-Clark Kennel Club 
Sunday April 24th and Monday 25th